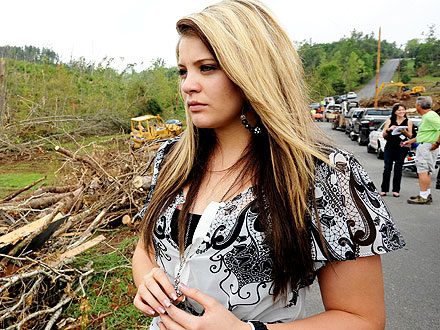 "American Idol" finalist Lauren Alaina returned home to Georgia over the weekend, and saw up-close the damage the May 4 tornado has caused. Amidst her busy schedule on Saturday, May 14, the 16-year-old aspiring singer made time to meet with tornado victims and was brought to tears upon listening to a young survivor's story.
People Magazine reported that Lauren visited a shelter at the Cherokee Valley Baptist Church in nearby Ringold. There, she met Tyler Long. The 11-year-old survived the tornado despite being thrown 200 yards from his family's mobile home, but lost his grandfather and had his infant brother in the ICU with a bleeding brain. His pregnant mother also lost her baby.
To Lauren, Tyler said, "I felt scared and I prayed, but I just wanted to find my family first." Upon hearing his story, this season's Top 3 contestant on "Idol" asked him, "How can you be so brave?" The Rossville, Georgia-native added, "You've got me crying, Tyler. I'm so proud to be from Georgia just like you."
On Saturday, Lauren received a homecoming welcome from the locals. She took part in a special parade and concert held at Coolidge Park on Chattanooga's North Shore. During the concert, she was presented with the keys to both the City of Chattanooga and the City of Rossville. She reportedly treated the crowd to her version of Martina McBride's "Anyway".
Afterward, Lauren followed another parade from Battlefield Parkway in Fort Oglethorpe to her high school, Lakeview-Fort Oglethorpe High School. She wrapped her home tour by throwing the first pitch and singing at Saturday night's Lookouts game.
© AceShowbiz.com